Mini Power Tractor Rotary Tiller on Sale
Arbor Configuration:
Horizontal Axis
No. of Blades:
34 or More
Packing Size:
1.6*0.7*0.7m
Pto Input Speed(R/Min):
540
Factory:
Weifang Shengxuan Machinery
Transport Package:
Iron Frame
Farm machinery rotavator,rotary cultivator, rotary tiller ,farm tiller,agricultural tiller
Weifang Shengxuan Machinery Factory
 
                    
----
Product Technical Parameter
of tillage machine----
        
     
2017 hot sale Middle Gear Box Tillage Machine rotavator  with beautiful appearence
 
Rotary tiller's /machine function.
   1GQN series Rotary tiller is mainly used for agricultural planting, before sowing tillage operations. After cultivation, the surface is smooth, soft, fine, It is able to meet the intensive agronomic requirements. When working on wet or paddy fields, it can reduce the tractor wheels sinking and slipping lost . In southern China, rotary tiller is used for tillage before seedding winter wheat, rice as well as suburban vegetable land plowing operations, orchard weeding.
1GQN-160 rotary tiller features :
1.The 1GQN-160 rotary tiller adopts middle gear transmission and can be mounted with 50-55hp tractor.
3.There is 38 IT245 blades , longer than ordinary one . material of blades is 65Mn.
4.Blade seat is made of double welded iron plate(thickness of iron plate is 4mm),more firm and durable.
5.High quality bearings,oil seal and gears. (bearings are bought from wanxiang group, gears are from famous factory in china, oil seal is imported from Taiwan)
6.More thicker iron plate: side panels thickness: 10mm, tailing plate: 2mm, cover plate:2mm
7.PTO shaft is with clutch to make the rotary tiller safe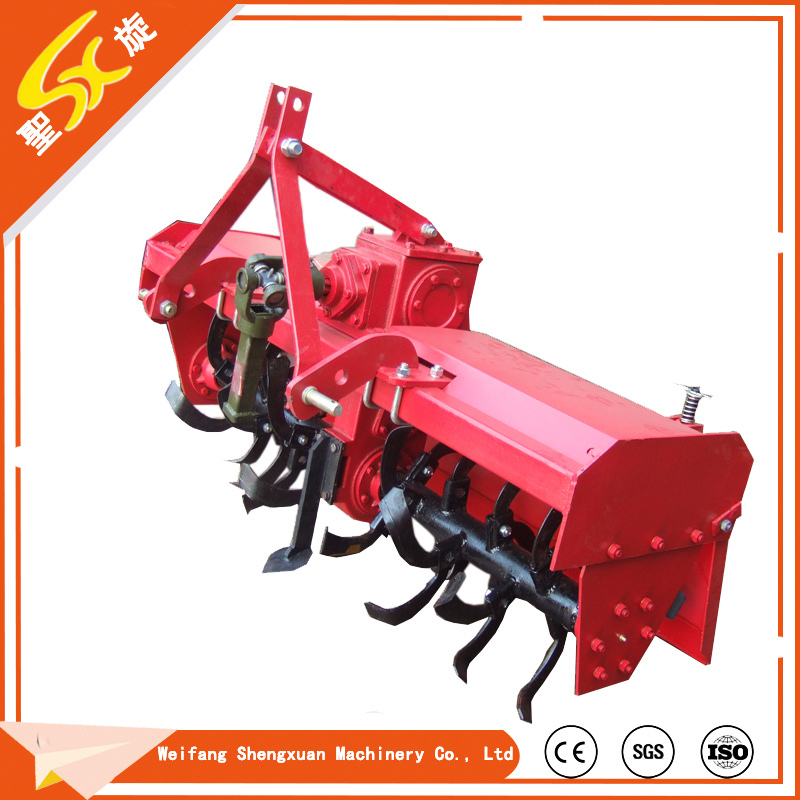 Rotary tiller working process:
 
1GQN series Rotary tiller is a power-driven machinery for cultivating. It is driven by tractor PTO rotating reel roller bladed to work. When working on dry land, tractor PTO drives rotary blades rotating, cutting the soil,. After the cracked clods, uniform coverage level, the ground does not appear furrows. Size and vertical structure are buried trip short edge of the corresponding reduced, and thus a higher productivity. With high Pulverizer performance, the ground is level. It can make full use of the power of tractor.
 1GQN-160 rotary tiller Specifications
 
Model
1GQN-160
(hp)
Matched power
30-40
   (cm)
.Working width
155

NO. of  blades
38

Type of blade
IT-225
(kg)
Total weight
230

(mm)
O.D.
(L)
1020
(W)
1800
(H)
1152
(cm) working depth
 
12-16
 
 
(r/min)
PTO axle rotary speed
540
Linkage
(Standard three-point mounted)
packing size(mm)
1700*700*700
 
 
                    ---- Products Show of tillage machine----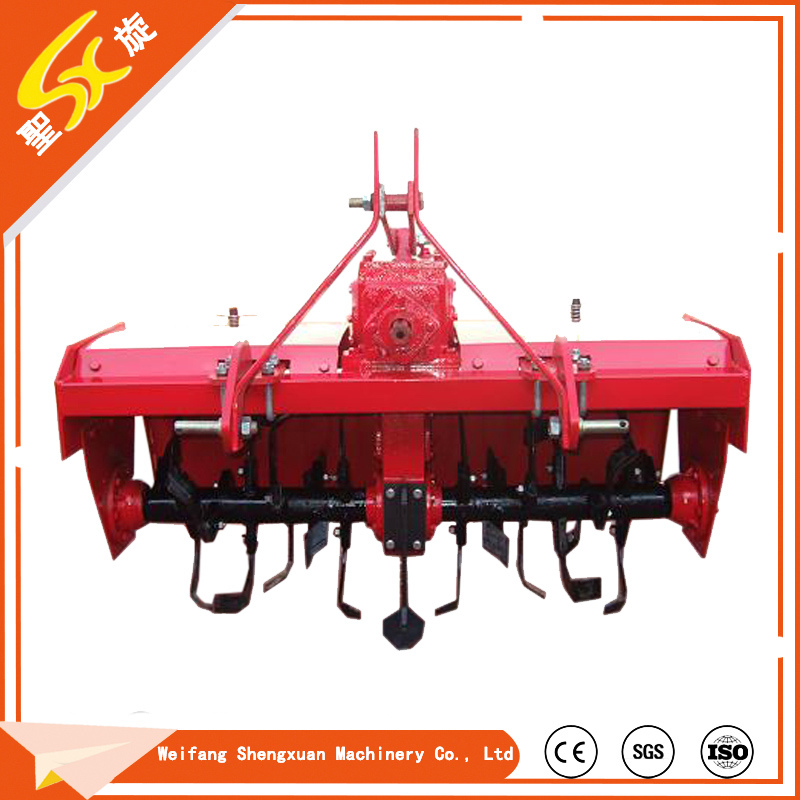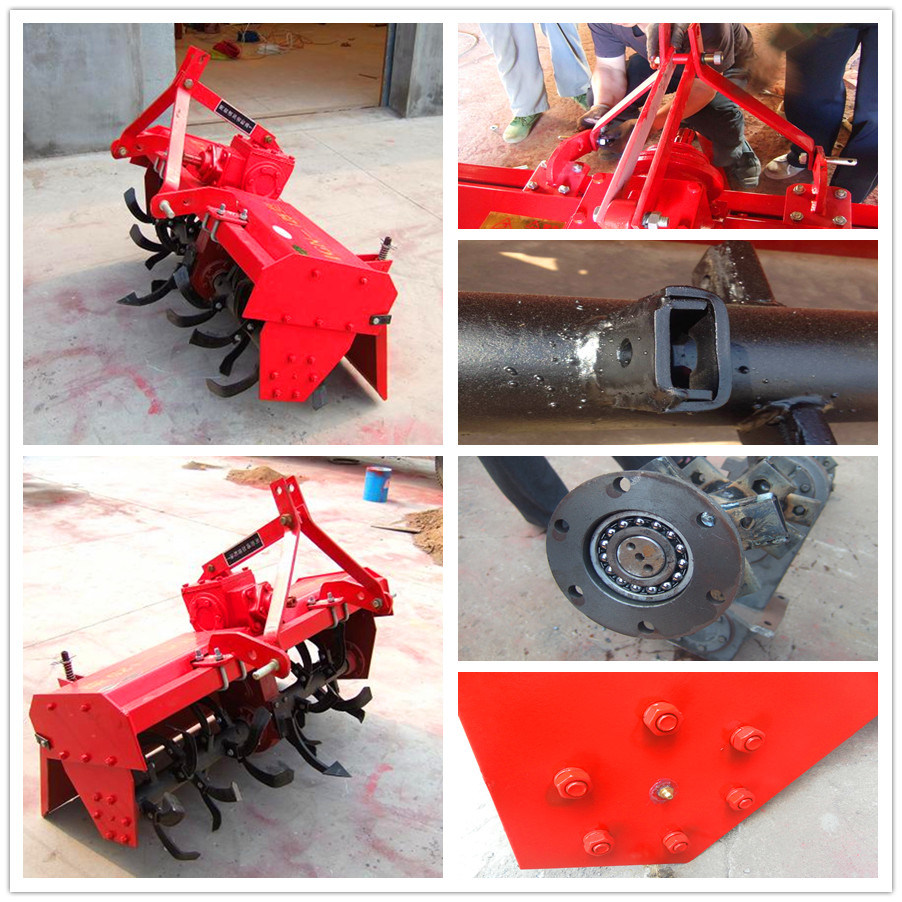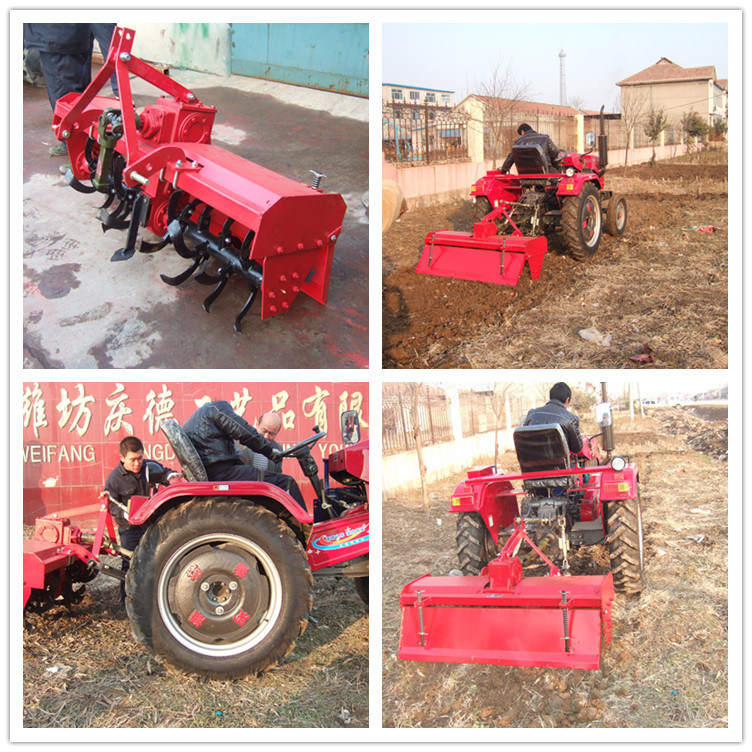 We also have other models:
1GQN-80 tillage machine
1GQN-100 tillage machine
1GQN-120 tillage machine
1GQN-125 tillage machine
1GQN-150 tillage machine
1GQN-160 tillage machine
1GQN-180 tillage machine
1GQN-200Â  tillage machine
1GQN-220 tillage machine
1GQN-250 tillage machine
1GQN-300 tillage machine
1GQN-350 tillage machine
1GQN-380 tillage machine
1GQN-400 tillage machine
Model
Matched power(hp)
No.of knives
Depth(cm)
Width(cm)
Type of knife
Weight
(kg)
1GQN/GN-80
18-20
18
10-18
80
IT225
180
1GQN/GN-100
18-20
22
10-18
100
IT225
195
1GQN/GN-120
25
22
10-18
120
IT225
205
1GQN/GN-125
25
26
10-18
125
IT225
210
1GQN/GN-140
25-30
30
10-18
140
IT225
220
1GQN/GN-150
25-30
34
10-18
150
IT225
230
1GQN/GN-160
30-40
38
10-18
160
IT225
240
1GQN/GN-180
50-55
42
12-20
180
IT245
350
1GQN/GN-200
55-75
46
12-20
200
IT245
370
1GQN/GN-220
60-80
50
12-20
220
IT245
390
1GQN/GN-230
70-80
50
12-20
230
IT245
400
1GQN/GN-250
75-90
58
12-20
250
IT245
420
1GQN/GN-300
80-90
70
12-20
300
IT245
480
 
    About
 
Our company
  Established in
1984
, Weifang Shengxuan Machinery Co., Ltd. is a professional manufacturer and exporter that is concerned with the design, development and production of farm machinery. We are located in Weifang City, with convenient transportation access. All of our products comply with international quality standards and are greatly appreciated in a variety of different markets throughout the world. 
We have over 150 employees, with an annual sales figure that exceeds
USD 1500,000
and are currently exporting
90%
of our products to worldwide countries. Our well-equipped facilities and excellent quality control throughout all stages of production enable us to guarantee total customer satisfaction. 
As a result of our high quality products and outstanding customer service, we have gained a global sales network reaching
Italy, Germany, and Turkey.     ---- Packing &shipping of tillage machine----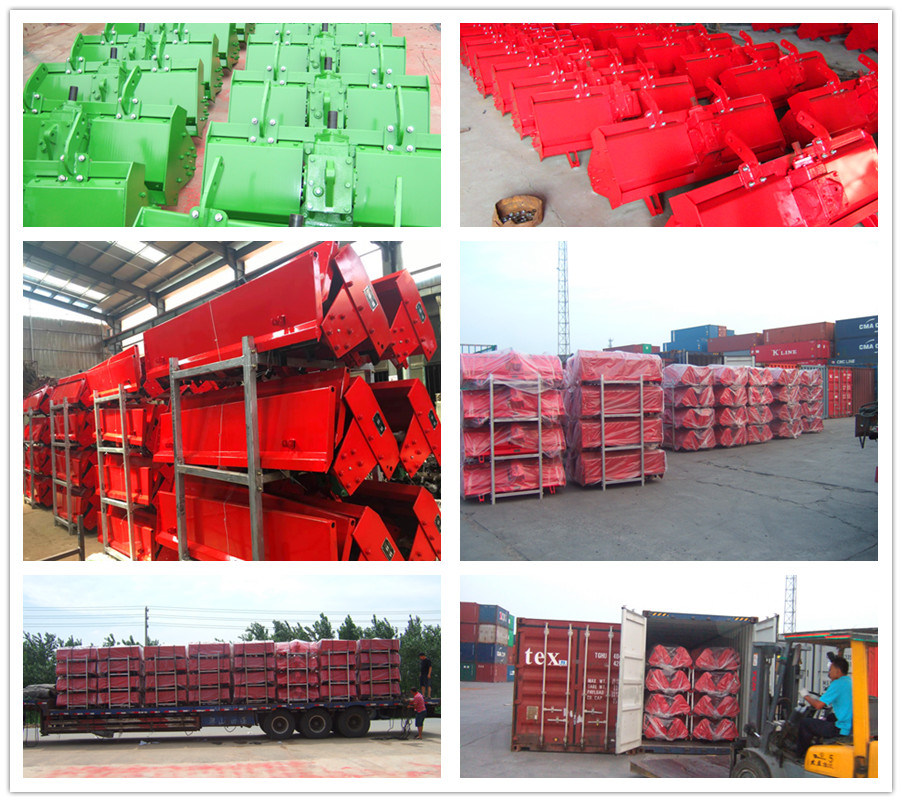 ----Buyer reading----                       
 
trade and packing terms
| | |
| --- | --- |
| MOQ | 1PC |
| Package | Iron frame or wooden case |
| Delivery terms | FOB,CNF,EXWÂ  |
| Lead time | 7-15 working day in regularly,or subject to the order quantity. |
| Payment Type | T/T,L/C, |
| Supply Ablitity | 1000 Sets/Month |
| shipping Port | Qingdao |
company introduction
 
Business Type
Manufacture,Trading Company
Location
Weifang City,Shandong Province.China
Year Eatablished
1984
Registration No.
370702200001927
Company Certification
CEÂ  ISO9001
Main products
rotary tiller,trailer,potato planter, disc plough, disc harrow, rotary mower , walking tractors and so on.  
With good quality, excellent performance, our products annually export to countries around the world, and we have gained the majority of customers trust.
After Service:
 12 months guarantee of the main parts, we will send the guarantee parts together with the machine in your next order or we can send them by air express if you need it urgently.
 
 
                      
Comparing with our competitors, we have much more advantages as follows:
1.
More than 33 years
in manufacturing farming machine 2.More Professional Sales staffs to guarantee the better service
3. More agri machines for your choice
4. More New products into your range to avoid price competition
5.Larger quantity production and shipment
6.Better quality to guarantee better Credit.
7.Faster delivery time:
only10days
8.More stick quality checking before shipment.
9.More reasonable after-sales service terms.
10.More famous brand: 
SHENGXUAN
" brand and "
CE
"ceitification.;
11..Lower repair rate and bad review rate.
12. We have 
American Branch 
to show our main products.We can give  customers best service. 
Welcome to contact us for more details!!!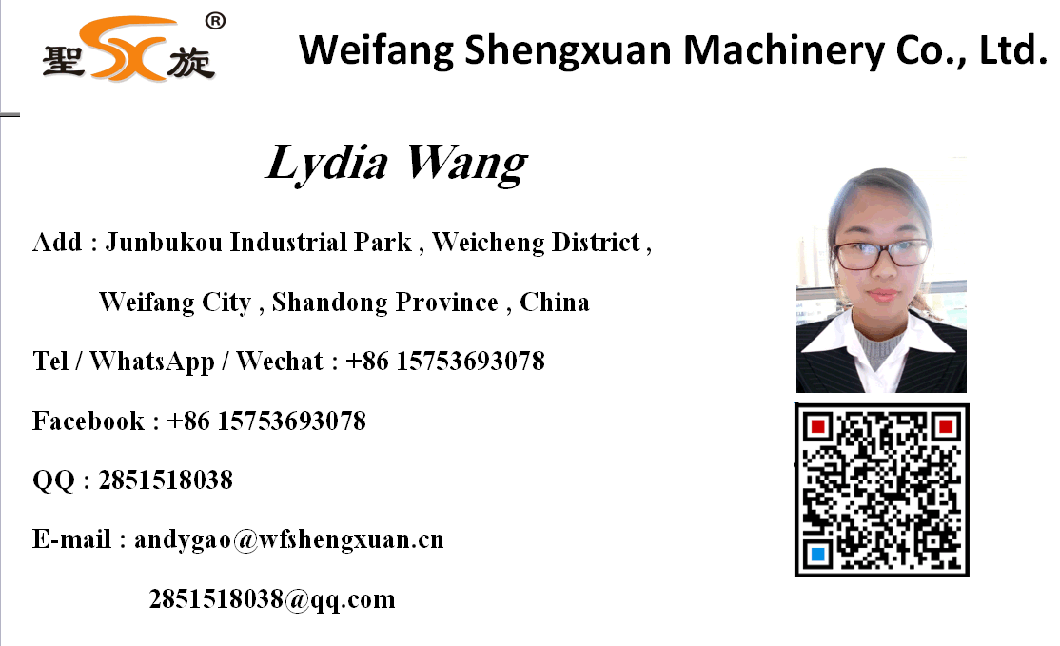 Elevator Air Conditioner, Passenger Elevator Air Conditioner, Passenger Lift Air Conditioner
OTIS Elevator Air Conditioner, Thyssen Elevator Air Conditioner, KONE Elevator Air Conditioner, GiantKONE Elevator Air Conditioner, ThyssenKrupp Elevator Air Conditioner, Schindler Elevator Air Conditioner, XJ Schindler Elevator Air Conditioner, Xizi OTIS Elevator Air Conditioner, Mitsubishi Elevator Air Conditioner, Shanghai Mitsubishi Elevator Air Conditioner, Fujitec Elevator Air Conditioner, Hitachi Elevator Air Conditioner, Toshiba Elevator Air Conditioner, Hyundai Elevator Air Conditioner, LG Elevator Air Conditioner, Sigma Elevator Air Conditioner, Express Elevator Air Conditioner, GUANGRI Elevator Air Conditioner, FUJI Elevator Air Conditioner, BLT Elevator Air Conditioner, CANNY Elevator Air Conditioner, SJEC Elevator Air Conditioner, KOYO Elevator Air Conditioner, IFE Elevator Air Conditioner
Elevator Air Conditioner
Elevator Air Conditioner, Passenger Elevator Air Conditioner, Passenger Lift Air Conditioner, Elevator Air Conditioning System
CEP Elevator Products ( China ) Co., Ltd. , https://www.elevatorcomponent.nl