Weichai Group celebrates "May 1st" International Labor Day and 2015 Commendation Meeting
On April 30, 2016, Weichai Group held the "May 1st" International Labor Day and 2015 Commendation Meeting to recognize the advanced collectives and individuals that have emerged in various positions in the past year. Chairman Tan Xuguang awards award-winning representatives and organizations.
In 2015, with the joint efforts of all employees, Weichai actively responded to the "new normal" of economic development, seized new opportunities for development, continued to maintain steady and healthy development, and a large number of advanced and passionate dedication advanced on various fronts. typical. In order to honor advanced models, promote the spirit of model workers, and further encourage all employees to actively participate in the reform and development, and promote the sustainable and healthy development of enterprises, the Weichai Group Party Committee, the company decided to award, awarded the engine technology research institute, coastal foundry, Weichai engine 10 units such as the company's "2015 advanced unit" honorary title; awarded Jiang Bo, Li Jian, Dai Wenxun and other 12 employees "2015 model workers" honorary title; granted to Wang Zhifang, Qiao Jinguo, Hou Yishuai and other 22 employees "2015 Annual working model "honorary title.
In addition, Feng Gang won the National May 1st Labour Medal; Zhang Hui was awarded the "Mengmin Xinglu" Labor Medal; Xue Hua and Hou Yonggang won the honorary title of the model worker of Weifang City; Wang Shujun won the title of the top ten craftsmen of Shandong Province for the defense machinery and electronics industry; Guan Liang, Han Qingxi was awarded the May 1st Labor Medal of Shandong National Defense Machinery and Electronics Industry; the No. 1 Factory Chief Technician Workstation was awarded the Shandong Labor Defense Electronic Engineering May 1st Labor Award. At the meeting, they will be commended.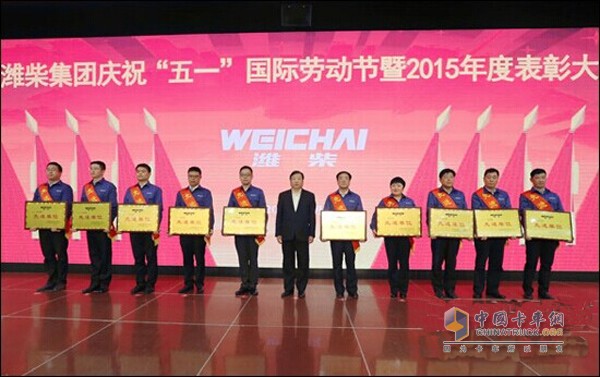 Weichai Group celebrates "May 1st" International Labor Day and 2015 Commendation Meeting
In warm applause, Chairman Tan Xuguang presented awards for 2015 model workers, work model representatives and advanced units.
Finally, Chairman Tan Xuguang made a speech. He first extended his warm congratulations to the advanced units, model workers, and working models who were commended, and highly affirmed the role of the first model in the development of the enterprise. He said that during the 70 years of development of Weichai, many groups of model workers have made great contributions to the development of the company. The development of Weichai confirms their contributions. Weichai will not forget them. History will Always remember them.
At the same time, Chairman Tan Xuguang asked party organizations and units at all levels to care for and protect good people, create a platform for their development, create an environment, and give full play to their exemplary role. We must rely on a large number of cadres represented by the model workers to continue to enhance the core competitiveness of enterprises, jointly create value, and build a dream of Chai Chai.
The Electrical Parts for Case equipments or machines include starters, generators, shutoff solenoid, electric fuel lift pump, electric fuel transfer pump, lamp, relay, sensor and switches. Lots of the spare parts are guaranteed with 12 months warranty. All of the parts are high copy for the OEM products, while your mahines are old and close to be eliminated, it is a cost-effcient way to choose the aftermarket replacement parts to match on. Our group is a proferssional team and responsible, we can refound while you think our quality is not good enough as you need.
Electrical Parts For Case Ih,Case Ih Tractor Parts,Tractor Light Switch,Mf Tractor Switch
Hangzhou Holdwell Mechanical&Electrical Co.,LTD , https://www.dieselpart.nl