Air compressor industry focuses on energy saving and environmental protection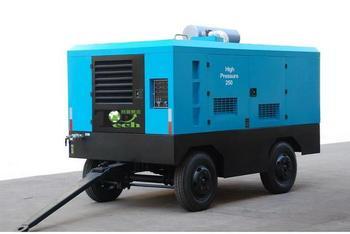 Air compressors are classified as an important category in "universal machinery" due to their wide range of uses. From the use of fields of view, air compressors are mainly used in machinery manufacturing, chemical and petrochemical, mining and metallurgy, textile and clothing, food and pharmaceutical, transportation and other industries, and are closely related to the macroeconomic trends.
Since 2013, the domestic economic situation is still complex. Downstream applications of air compressors are closely related to macroeconomics and fixed asset investment. The market demand remains weak, and sales of most companies in the industry have fallen.
Forward-looking Industry Research Institute's "2013-2017 China Air Compressor Industry Production and Sales Demand Forecasting and Transformation and Upgrade Analysis Report" believes that in 2014 China's macroeconomic economy is still facing downward pressure, the possibility of rapid economic recovery is relatively small, air compressor products As an investment product, the industry as a whole may continue to slump.
Compressor Enters Energy Saving and Environmental Protection With the continuous progress of society and scientific development, energy conservation and environmental protection have become more and more topics of concern. As an air compressor used in many fields, the introduction of energy-saving products has great significance for China's energy-saving business.
Therefore, air compressors are continuously developing toward compact structures, low energy consumption, low noise, high efficiency, and high reliability. In fact, the air compressor itself is safe, sustainable, and reproducible. It is a viable solution to reduce carbon emissions. It is not a new technology, but it was found in today's global effort to find energy-saving and emission reduction solutions. New application world.
In the face of the current market conditions, domestic air compressor manufacturers are enjoying national energy subsidies and realize rapid production transformation. We will increase our research and development efforts in products and continue to produce products that are adapted to technological development and have more advantages.
It can be predicted that under the background of the shortage of resources in the world, all countries in the world are making great efforts to carry out innovation in compressor technology, and strive to bring more energy-saving effects to the refrigeration industry. China's energy saving and subsidy policy will play an important role in market regulation, and provide an opportunity for enterprise restructuring and overall upgrading of the industry. Directly promoting the domestic air compressor market will enter the energy-saving industry.
Description of Belt Dryer
The raw materials after washed should be distributed on the conveyer belt through suitable mechanism such as star distributor, swing conveyor, crusher or granulator, the conveyer passes through the channel including of one or several heating unit. Each heating unit is equipped with air heater and circle system. Each channel has one or several damp discharge systems. When the conveyer passes through it, hot air will pass through the raw materials from up to down or from down to up. In this way the raw materials can be dried uniformly.
Application of Belt Dryer
The Industrial continuous belt dryer is an industrial continuous drying equipment. It is widely used for chemical industry, foodstuff industry, pharmaceutical industry, construction materials industry, electronic industry and so on. Especially it is suitable for drying raw materials that are good in breathability and have the shape of pieces or strip of granule. It is also possible to dry the pasted raw materials such as filter cake after shaped through granulator or extruder.


Features of Belt Drying Machine
1, Air quantity, heating temperature, materials staying time and feeding speed can be adjusted to achieve the best drying effect.
2, The equipment configuration is flexible, mesh belt washing system and materials cooling system can be used.
3, Most air is recycled to realize saving energy
4, The machine is equipped with unique air dividing apparatus, it makes the hot air distribute uniform better and guarantee the quality of products is constant.
5, Heating source can be steam, conduction oil, electricity, coal (oil), or Hot Air Furnace.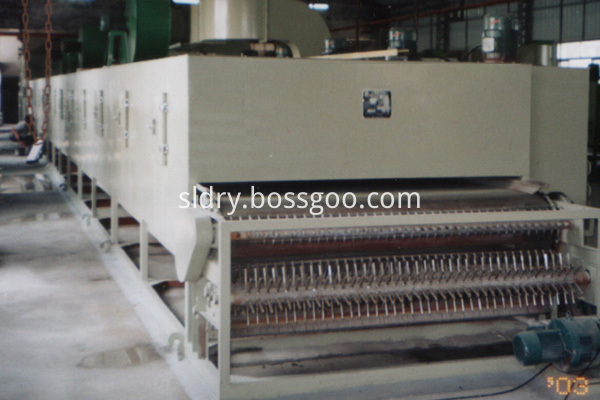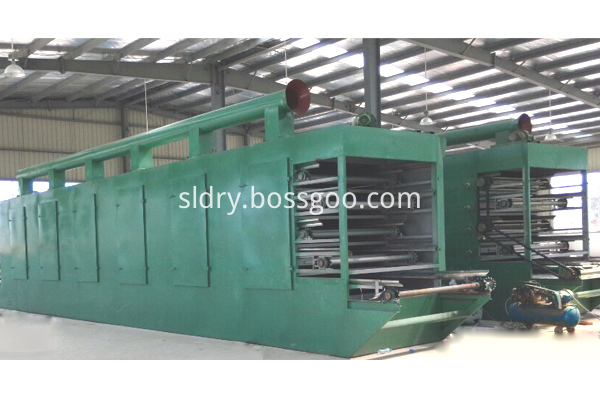 CHANGZHOU SULI DRYING EQUIPMENT CO.,LTD.specializing in the production of Mixing Dryer, Spray Dryer, Granulation Dryer ,Crushing Dryer, 3D Motion Mixer and V-shaped Mixer.
Belt Dryer
Belt Dryer,Industrial Belt Dryer,MSG Conveyor Mesh Belt Dryer,Food Single Layer Belt Dryer
Changzhou Su Li drying equipment Co., Ltd. , http://www.sldrying.com